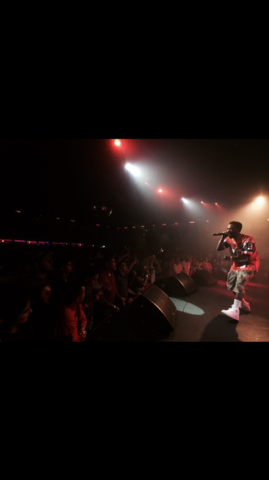 Blog
Concert Review: Curren$y at Cervantes in Denver
By
|
Just like any other night, Cervantes was buzzing with people. Curren$y was the performer of the night and it wasn't hard to tell that there were a TON of fans in  the building!
The venue was pretty full and I caught 2 of the many openers for the night. At some point it felt like we had been waiting forever for the headliner but this one opener, Reason The Citizen, was really dope! The better the opener, the better the energy will be for the main act. The vibe was good after him.
Curren$y's tour DJ (a female, which is hella dope) came to the stage and started going in and getting set up. She called out to the crowd "Put Ya Jets Up," which the room happily did and moment later Curren$y was on the stage, dropping BARS! The NOLA emcee moved through the first half of his set performing favorable tracks like "Drug Perscription," "Three 60," "Full Metal," and "King Kong." Like I said, there were a ton of fans in the place to be. Several times during the performance, Spitta put the mic out to crowd and let the concert-goers finish the lyrics, and they were spot on! The involvement the artist had with crowd was very dope and entertaining to watch.
Not only was there JET LIFE fans in the building, but the smokers! Curren$y smoked plenty while taking a blunt from the crowd a few times- which gave back an uproar of screams and cheers! People love that shit! The music was loud, the bass was knocking and Spitta took a minute to address the fans and thank them for their support, crediting THEM for his success an artist. "You helped create this and I thank you," he said.
The second half of his set was great! He performed a lot of crowd favorites including "Famous," "High Tunes," "Jet Life," "Six-Seven Turbo Jet," "A Lil Somethin," and the dope joint "Do It For A G." Again, there was a lot of a'capella performing and crowd participation which is so awesome! It adds a harmonious and personal connection between the performer and the crowd.
Curren$y absolutely lives up to his nickname "Spitta!" He performed so many songs and gave his performance 110%! Make sure you check him out on tour when you can! Hip-Hop is alive and well and the Jet Life artist represents it well!
Check out other Curren$y tour dates here!
[Best_Wordpress_Gallery id="44″ gal_title="Curren$y"]