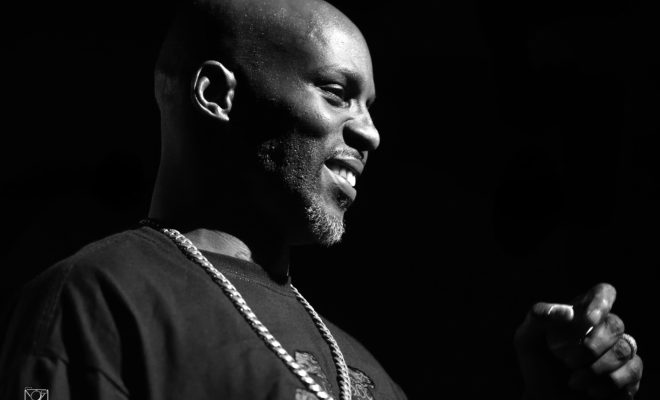 Blog
[CONCERT REVIEW] DMX Brought The Hits x The Ruff Ryders in Denver at Cervantes Masterpiece
By
|
DMX is a legend. The way he came into the game in the late 90's was hard to miss and hard to forget. DMX dropped his debut album, It's Dark And Hell Is Hot, is 1998 and it's been ON for the Yonkers, NYC rapper ever since. Regardless of his personal troubles, his music stands as classic. Almost 20 years after his debut album released, I have FINALLY gotten the chance to see X live and here's what I have to say about it…
Walking into Cervantes (for the hundredth time,, at least lol), I was excited! The first thing I noticed was extra pat downs since it was Halloween weekend, a full crowd and a few vendors setup. I have to shout out Midas (he opened up for X) and the Doobie Club because they were EVERYWHERE. A whole squad of Doobie Club wearing people, a huge Doobie Club banner on stage. Oh, I knew Midas was in the building. I made my way around the venue just checking out the scene and the vibe was really dope. Once Midas hit the stage I had to post up and catch his performance because he's seasoned at this and he's a great performer.
Midas did his thing for his set, had the whole crowd yelling, "If you ain't getting money what you talkin bout?!" His DJ and hype man were both on point with the vocals and energy, you can tell when artists rehearse and take performance seriously- Midas and his crew are like that. My favorite track by Midas is "Ask About Me" so when that beat dropped I was hyped, rapping every word- it was too much fun!
By the time we were waiting for DMX to hit the stage, the venue was smoked OUT! I'm thankful I had some cough drops on me because they were needed! But hey, its a concert in Denver, its going to be smoked out.. every time.
The crowd was packed on the main floor and fans had made their way to the front waiting for X to hit the stage. Which was perfect, because when he did it sent the crowd into FULL TURN UP mode when the beat dropped for "We Right Here." It was nuts. DMX hit the stage ready to put on, with a fly velvet maroon jacket and sunglasses.
The stage had about 15 people up there but I realized they were the members of  Ruff Ryders. Apparently DMX invites members of whatever local Ruff Ryders chapter is around to his shows. This was super dope to me. I never recognized Ruff Ryders as a bike crew, only a record label. As the night went on, I saw more and more members in the crowd. You couldn't miss them. They had black, white and grey camo with the Ruff Ryders vest jackets- it was FLY!
DMX' set was CRAZY. He did ALL his hits! Here is his lineup of tracks he performed:
One More Road To Cross, My Ni**as, Ruff Ryders Anthem, Let's Get It On, get A Me Dog, Stop Being Greedy, How's It Goin Down, It's All Good, What These Bitches Want, Where The Hood At, Party Up, X Gon Give It To Ya, and Slippin.
Before he performed 'Slippin,' he prayed with the crowd. He had everyone put up lighters or their cell phones and he prayed. He prayed and thanked God for his trials and troubles, telling the concert-goers that "God is in us.." It was a special moment.
After that he put his arms up in an X and made his was off stage. It was really a dope performance. DMX has SO many hits and his fans really showed up and showed out that night. He had energy and light the entire time.  The lights and the sound was incredible as always at Cervantes and I was so happy to have witnessed such a legend.
And for the record, he really does growl into the mic like that! Legendary!
Check out the pics below! All photos by the talented Tim McClanahan..