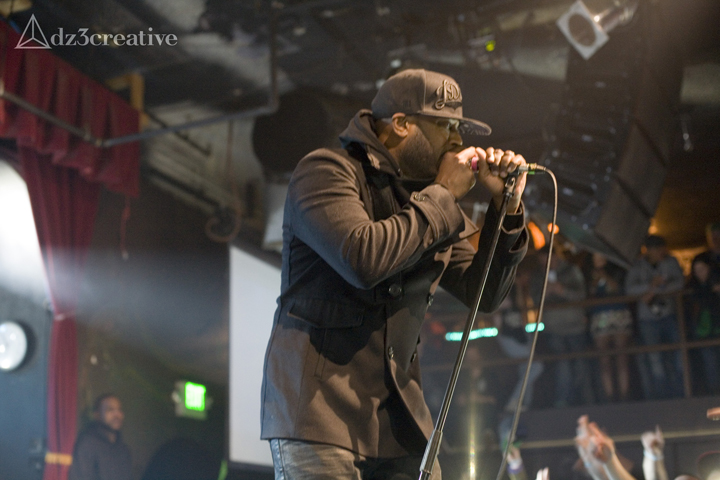 Blog
Concert Review: Talib Kweli x Immortal Technique In Denver
By
|
Talib Kweli never disappoints with his live show, but this show was the best one yet! Hip-Hop was alive and well as Immortal Technique and Talib Kweli brought massive amounts on energy for their Denver show at Cervantes (March 12).
Immortal Technique had fans in the building, that's for sure! Hip-Hop heads filled Cervantes and the night was set! By the time Talib hit the stage, the venue was packed!
Talib came to the stage in a low black hat and black pea-coat looking focused and ready. His energy was up high and he sounded clear and distinct on the mic. Kweli was in the building! DJ Spintelect was on point, per usual, holding down the tables. The stage lights were immaculate- looking better than ever before at Cervantes! The stage had two monitors on each side of the stage displaying dope visuals that added to the overall vibe of the night.
Kweli brought out fellow tour-mate, Niko IS, to perform a couple songs and it was DOPE! Niko is one hell of an artist! They have a great stage chemistry as well!
Then came the classics. Kweli performed his classic verse from "Get Em High" off of Kanye West's first album, College Dropout. The crowd knew every word, of course. Then came a slight intermission. Talib saying into the mic, "Red light- can I get a fuckin' red light.. (lets) play some reggae." This was a dope moment, Spintelect dropping a few classic reggae joints and the crowd was loving it. The vibes were perfect. After that, Kweli performed "Definition" and other classics.
Much respect to Talib is actively involved in the issues of the world and takes the time to always address his opinion, concern and thoughts. Taking a minute to address the crowd, Kweli talked about the importance of #BlackLivesMatter, #AllLivesMatter and Women's Day.
Talib never disappoints and this show was no different. Make sure you catch his live show along with Immortal Technique in your city as they finish up The People's Champions Tour!
[Best_Wordpress_Gallery id="26″ gal_title="talib kweli/ immmortal tech"]
All Photos: DZ3 Creative