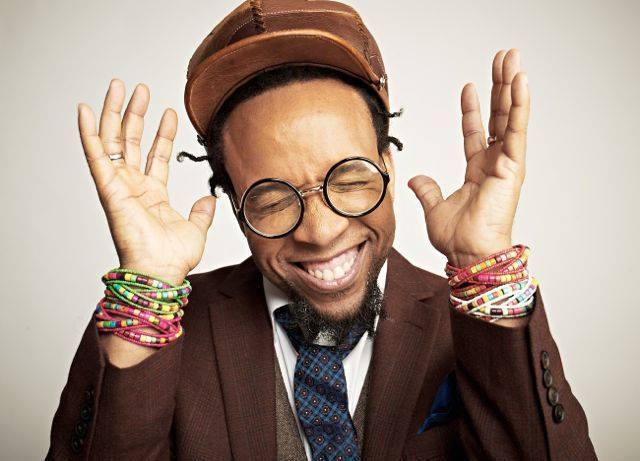 Blog
Hip-Hop Has Been The Voice Of The Youth | A Q&A With Speech From Arrested Development
By
|
Arrested Development has been around for many years! The band won Grammy's back in the 90's and continue to make music, tour and contribute to this culture we love- hip-hop. In a recent interview, AD's lead singer, Speech, talked with me about visiting Denver, the Cannabis Culture, The Victory Spot, the new age of hip-hop and more! Take a moment and check out the conversation below…
Lizzy Brodie: You'll be here in Denver next week, how many times have you been to Denver over the many years?
Speech: Oh My Gosh! I can't even say, but I know it's probably over 10-12 times. We used to go to Denver during even the Lollapalooza days in '93, '94 and then we've been to Denver even this year already .. and then we'll be back this coming week. We're EXCITED, we LOVE Denver!
LB: Okay cool! Is there anything you specifically love about Denver? Do you support Cannabis Culture and the legalization?
Speech: I don't smoke at all but I support the legalization of Cannabis, yes! I think it should be people's business. That's the one drug that I think doesn't affect people in a negative way. I've never seen anyone have (car) accidents because of it. I feel like that drug is people's choice- even though I don't smoke it. Obviously me being in the industry and being a musician, I know friends, family and people that do and I think it should be legal.
LB: You recently did the TED TALKs out in Portland, how important is it to you to do inspirational talks/speeches and relate with the public in that way?
Speech: I used to speak A LOT back in the early 90's with Arrested Development blowing up. I had stopped doing that as much and then getting back into it with the TED TALKs earlier this year, it was a resurgence for me. I love doing it, I think it's important! My goal is less of being a motivational speaker and more of being someone that can bring new ideas, maybe old ideas but very relevant, back to the table and back to the discussion board for people. So, that's what I wanted to do with the TED TALKs and I think I accomplished that.
LB: So, you and your wife started The Victory Spot down  in Georgia, how is that going for you two?
Speech: It's amazing! My wife and I started this about a month and a half ago, and I wish you could see what I'm seeing but there's kids outside my door, kids and parents running around doing their thing. People are learning how to act and learning singing, dancing and everything! What I love about it is that it's a safe haven for artistic people to get their knowledge on but we're not going to exploit them- we're going to encourage them and lift them up so that they can be incredible in this industry. We need more incredible artists that are willing to do all different types of music and entertainment. So, that's what we're doing here!
LB: That's amazing! Congratulations! Now, tell me, what do you LOVE about hip-hop culture?
Speech: What I love about hip-hop culture is that is gives the average guy an opportunity to become a mega-star. So what I mean by that is that back in the day, before hip-hop, you were maybe a musician in a team player situation where maybe you played the drums but you had to have the guitar and the keyboard- all together you make a band. And you HAD to have the label, had to be in the studio to get the record made, you had to have the label to get it distributed. With hip-hop, it began to be a thing where if I had a dream, a good rhyme or a good idea, I could get that idea out with just 2 turn tables and a microphone! That's all I needed! And all a sudden, I could get this idea out to reach.. Africa, or Europe or Canada and throughout the United States! And if I'm a poor guy in the middle of the Bronx, I could all of a sudden reach all of New York. And these were things that were unheard of in past generations prior to hip-hop. Hip-Hop has been the voice of the youth! And the good side of it has been that. Don't get me wrong, hip-hop has been exploited for many years now.
LB: Word. I'd have to say I completely agree with you! Are there any artists out now that you are listening to?
Speech: I listen to a lot of new music! I was just listening to Drake and the new Rick Ross, of course Kendrick Lamar! All in all, I'm just a fan of the art form, even if I don't agree with the subject, which happens a lot! I listen for flow, delivery and artistry. If I'm in more of an analytical mood, I'll write about how much I hate the lyrical content and the degrading message it's putting out to the youth. I recently did an article about the Straight Outta Compton movie. I praised it in some parts and tore it down in other parts I felt needed to be tore down.  There's not a lot of analytical thinking today about this music we call hip-hop. A lot of people will praise it or just leave it alone but they're not analyzing the effects it has on our cities.
LB: Word, that's interesting. Well, I know I'm excited to see Arrested Development in Denver next week!
Speech: We are looking forward to it! We are so excited to get back there! Shout to all the people in Denver- we are going to do some classic and some new joints, so be there!
GET TICKETS & MORE INFO FOR ARRESTED DEVELOPMEMT'S UPCOMING SHOW HERE!