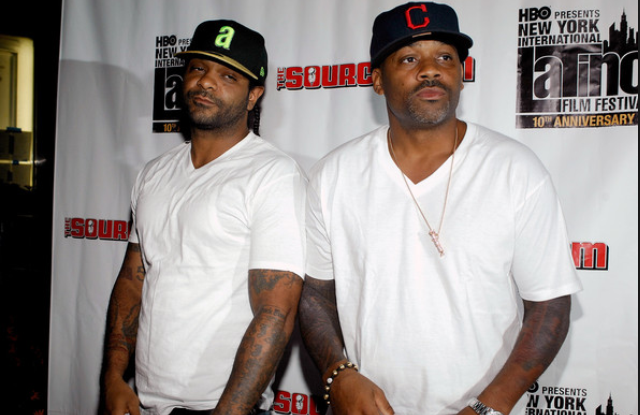 Blog
Jim Jones Vs. Dame Dash (Round???)
By
|
August 28, 2014| Marcus Flowers
Jim Jones and the other members of the Dipset have always had an on again off again relationship. From Cam'Ron, Juelz, and Dame's view, the brotherhood started to sour back in 2006 when Jones suggested the Diplomats split. Circumstances have not much changed nearly eight years later.
Earlier this summer Dame Dash went on a rant against many top Hip-Hop executives calling them "Culture Vultures" taking to his IG page to define why he has problems with top branch officials like Steve Stoute, Lyor Cohen, and Joey M. just to name a few. But the leader of Vamp Life suddenly had a startling revelation. The "Capo" of the Diplomats came out of nowhere and posted a picture on his Instagram account with a picture of Dame Dash and the Caption read
"This n*gga here is tha real culture vulture n a thief fuck faggot lol back to my day."
Dash, caught by total surprise by the rebellion of his former business partner had this to say about his former business partner of Vamp Life and Dipset
"I'm not sure what exactly would make @jimjonescapo disrespect me publicly or any kind of way but if it's over money or Buisness i really don't think that's the most productive way to deal with things…but I'm always open for discussion as long as we speak as men… I would never be ignorant enough to get on some tuff shit… That's what's killing our culture… I have nothing but love for you despite your disrespect…we are all kind of used to the way you react in the moment but it's just not positive or productive for the culture….let's lead by example…we can't be fighting each other it makes us all look dumb harlem does stick together we never fight each other… Please don't try to make a positive thing look negative….if you have a real issue we can talk about it…my daughter is on this Instagram…. And I love your family my nigga… Let's hug it up…. We dont need to be fighting #harlemstickstogether."
Hopefully the Two Harlem Heavyweights can come to terms and really stick together again. They created amazing work together and helped further define the culture of Hip-Hop in the early to mid 2000s.