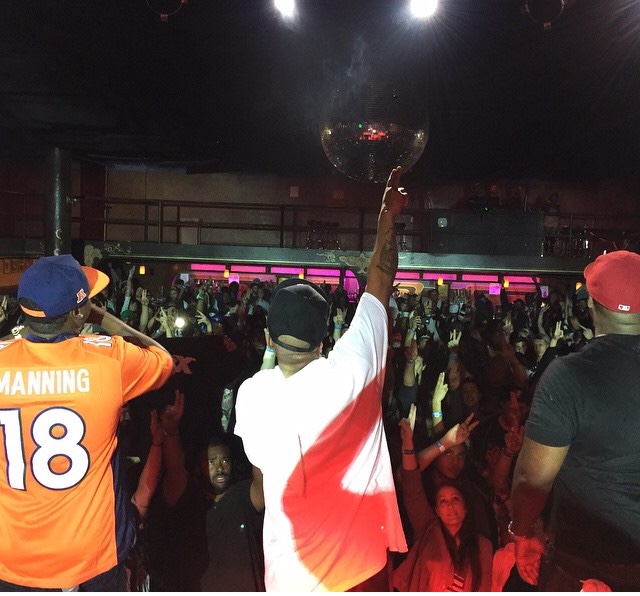 Blog
The Lox Live In Denver; Show Review
By
|
If you love hip-hop, it would be pretty hard to name classics without bringing up The Lox, and especially the world renowned "Top 5 Dead Or alive," Jadakiss! Last night (October 20th) all 3 members of The Lox, Styles P, Jadakiss and Sheek Louch, put on one hell of a show for the mile high city. The show was sold out but it was LIVE! This was a show for the fans and the fans were in the building.
There were about 4 or 5 openers before The Lox hit the stage. Waiting impatiently for the headliner was the hardest part of the night. The openers were all pretty terrible except for Mr. Midas! Mr. Midas has a following in the city of Denver and I even spoke to more than a few people who said they were only there to see Midas!. When Midas and his dj, Dj Different, hit the stage the energy immediately changed. The crowd started to fill up in front of the stage. Its so important that you know how to project and annunciate your rhymes on a mic- and Midas has that mastered, he sounded great! He took to the time to not only rep Long Beach, CA but Denver as well! Talking to the crowd, joking with them and keeping them engaged was like second nature to the emcee. Midas kicked a couple freestyles too! During one freestyle, a guy next to me looked at me and asked, "Do you know who this guy is?! He's dope!" Midas performed his hit single "Ask About Me" and without a doubt commanded the crowds attention and energy- everyone was feeling that track! Denver has mad love for Mr. Midas!
After waiting till almost midnight for The Lox to hit the stage, their Dj finally came to the stage and getting it together. And by getting it together I mean, really actually doing his sound check right there- even announcing it! I understand it happens but still, sound check should have been handled prior to the venue doors opening for the evening. Once the Dj was settled though, The Lox hit the stage and the show was on and popping! Jadakiss came out in a Denver Broncos jersey and hat which is extremely dope! I love when artists show love to the city they're performing in. All 3 of them sounded really good together, their mics were on point and their stage chemistry was alive! Every time there was a verse to be spit, that emcee would take  center stage and go in while the other 2 would move to the side. That small detail added so much as it made it even more clear and vivid to hear the rhymes.
They really put on a great show! Especially when they dropped classics like "All About The Benjamins," "Money, Power, Respect," "Locked Up," and "I Get High." Styles P especially enjoyed performing "I Get High" as he lit a fat blunt on stage and smoked away. Each emcee got their time to shine and perform their independent singles. Sheek Louch acknowledged the ladies and got them screaming before he dropped "Good Love." That was a blast- I love the feel of that track!
I always like to move through the  crowd and venue to experience the show with different people in different spots. Once I got with a few of my homeboys center stage, the show got really turned up! The chanting began.. "This is D-Block! Mighty, Mighty d-Block! Everywhere we go! People want to know! .." It seemed like everyone was jumping up and down at the point- including myself! These emcees were putting on! Jadakiss and Styles P even came off the stage and into the crowd as they performed "Kiss Your Ass goodbye." The energy was high at this point and the crowd couldn't wait to hear what song dropped next.
After a couple remixes and a Biggie tribute, the show was winding down. In true Denver style, someone in the crowd started throwing pre-rolled joints on the  stage in which Styles P happily saluted the concert goer! They announced they would be at their Merch table selling shirts, CDs, Taking pictures and "Hugging Babies!" All in all, the show was worth the wait and was really good! Those of you that missed out, missed a dope hip-hop show full of classics! Catch them the next time you can!