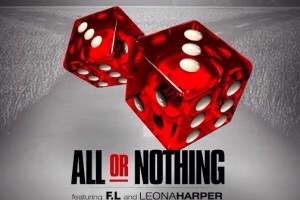 Blog
The Three Project Drops First Single "All Or Nothing"
By
|
What happens when you look at the musical talent in your city and know that there is something amazing there? The Three Project is the result of handpicked producers, engineers and artists of Denver coming together and making magic.
The Three Project represents "Unity," and what can happen when everyone puts all pride aside and works together for the sake of musical genius. After a year of seeing the #3hree hashtag all over social media, finally I was invited to the exclusive listening party of the project. I was beyond impressed! The Three Project is more than hip-hop, it's everything- pop, jazz, soul and more. The collaborative efforts on this projects are smooth and balanced. Every track grabs you.
On thanksgiving, the first episode of the documentary was released. The behind the scenes of this project with the people involved. Watch the first part of the documentary HERE.
Today, the world gets the first single off the project! "All Or Nothing" is a BANGER! There is no wonder this is the first single. The song features respected emcee F.L. of The Foodchain and the soulful Leona Harper. Check out and download "All Or Nothing" HERE!