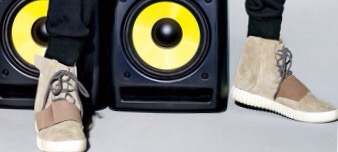 Fashion Feature of the Week
Fashion Feature of The Week- Yeezy Season One 
By
|
Marcus Flowers | August 18, 2015
Kanye West has always pushed the limits of fashion. Whether if it's the pink polo shirts, the all-red suits, a mask covered in diamonds, Mr. West has always been cutting edge.
Now it seems he's ready to take the fashion world to the next level with his clothing line Yeezy and his first collection season 1.
Fashion magazine GQ gave us an exclusive first look at the line. The preview comes as the magazine interviewed pop/R&B sensation The Weeknd, who was modeling the line for a spread in their upcoming issue. The line contains sweatsuits, fatigue military-styled jackets lined with earth tone. The line basically is everything Kanye West has been wearing over the past few months.
Like everything in high fashion, the season 1 products come at quite the price tag. $496 and $1,560 for shirts while sweatpants come in at $545 and outerwear will be between $3,000, while the duck boot will go for $585.
Check out the video recap below:
https://youtu.be/oY_aizaxsdA