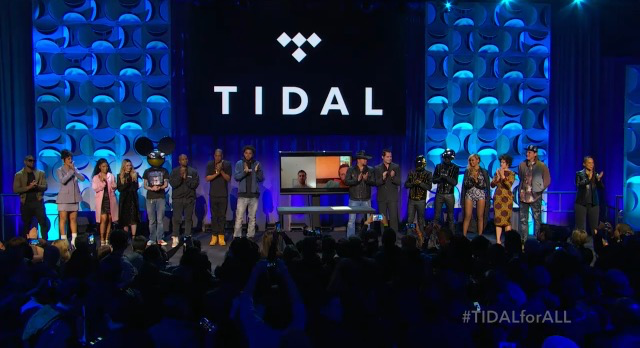 Blog
Jay-Z Launches TIDAL Music Streaming Service Along With Madonna, Kanye West, Rihanna, Daft Punk & More! 
By
|
#TIDALForALL
This is pretty awesome. We all knew that when Jay-Z purchased a music streaming service based out of Sweden that something epic was aroubd the corner. And around that corner, we now know, is TIDAL.
TIDAL is the first ever ARTIST OWNED music streaming service! The official TIDAL announcement & conference was held today and lead by Alicia Keys. Joining her on the stage were all the other co-owners of TIDAL. All together they stood- Madonna, Jay-Z, Beyonce, Rihanna, Daft Punk, Kanye West, Jack White, Nicki Minaj, Coldplay, Usher, Calvin Harris, Deadmau5, Arcade Fire and J. Cole.
The monthly subscription has already been cut in half, going from $19.99 to $9.99- probably just to cater to the fans better. TIDAL is said to be an exclusive experience and communication between the artists and fans. Whether it's exclusive music drops, videos, etc- the artists have full control over the releases. There has been plenty of issues with music content with ither streaming services like Spotify and others.
"For the people, by the people," said Alicia Keys.
We can only respect and pay attention to the changes being made in the music industry. I salute Jay-Z and the other co-owners on coming together and creating a new wave in the music steaming world!
Will you be purchasing TIDAL?