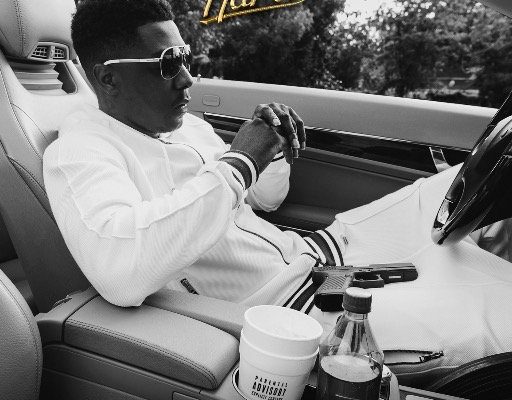 Blog
MobSquad Nard Talks Being On Tour And XXL Freshman Cover
By
|
I had the pleasure with sitting down and speaking to Mobsquad Nard about , goals, the XXL Freshman cover and being on The Smokers Club tour. Following the interview, I got to see Nard give one hell of a performance for his fans. The fans were a little lackadaisical that was until Nard performed is new single " Everything Clean But The Ashtray" . His control of the fans was mesmerizing and  the rest of the performance was entertaining . Nard got the fans lit and kept the positive energy flowing as the next sets performed. In all the show was a amazing concert.
So is this your first time in Denver?
yes it is.
How do you like it?
I'm loving it , I like the freedom. I'm walking up and down the street smoking weed. Its pretty cool. The people I have been interacting with been pretty humble.
So you said you've been walking up an down the street smoking?
Yea I've been getting to where  I need to be..is that legal?
That is Illegal 
Is it!…Well I didn't really have any pressure .I'm ignorant to the Denver laws. I don't wanna go to jail out here though
Music wise, do you feel that you are in the prime of you life at 26?
yea, defiantly …. I mean I'm still getting it as far ..yea i feel like I'm getting towards my prime. I feel that 30 years would be somebody's  prime. I don't think 30 is too old. There are  a lot of rappers that didn't make it big until they were 30, like Gotti. I use to feel like 22 way your prime. Then I realized once you get older there are different stages and different levels and everything.
Did you think you would be here when you were 18 years old?
oh no… well to tell you the truth when I was 18 I didn't know where I was going to be. I didn't know if i was going to be on 106 and park or if I was going to be in jail somewhere, its a jump ball really. I defiantly knew if I stayed on point I was going to be on the positive side not the negative side.
So I'm just now  getting hip to your music because of Lizzy, so where did the whole " everything clean but the ashtray" all come from ? 
Man shout out to Lizzy!  Everything clean but the ashtray is just a down south saying. I heard that saying a long time ago from Mystikal . He had it in one of his songs , I live by that you know .  My momma always said "keep ya car clean , keep all my stuff clean" ..everything clean but the ashtray.
 How do you feel about Young Thug right now in the music world?
I don't know Young Thug.
Music Wise…
I really don't know any of his music .I mean they have the little stuff that be on the radio. My kids , they catch the radio sometimes. I just don't know none of his words to his song . I cant really understand buddy like that.
You saw the XXL freshman cover correct?
Yes , Shout out to  G herbo , real one on the team , he representing for the count .He made it.  Much respect and much love.
Do you feel that there was a lot of backlash from the XXL freshman  cover? Do you see that  every year ?
I'm a tell you yes, because we got more and more opinions. With the internet everybody got a opinion and you got all these bigots with opinions so of course there is going to be negative feedback. Back when XXL first came out when they  first started doing it , it wasn't like that. When I first read XXL they didn't have the internet . They use to do , who stole who's line and all of that " Throwback XXL". They didn't have all of those fans opinions like " oh no Birdman shouldn't be on the cover this month", " They shouldn't have lil Wayne and Cash Money on the cover". With there being so many rappers nowadays I can understand where the negative backlash came from . It's a countless amount of rappers than what it use to be . A lot of people are just like " I hate him because I never heard him" , that's how a lot of people feel about the rappers really.Most people who hate me never heard of my shit before. I never heard a lot of the rappers on the XXL cover . So I can't say " oh those boy's trash" because  I never heard them .
I think that was what the issue was. Then again I think those people that nobody knew about are kind of getting more popularity because people are trying to figure out who they are.
Yea, that's  what it's about. You did  put in your work to get on the cover obviously , if people don't know they will find out . I feel like the people who already made the list knew that. Trust me , we going to put them on even if you don't know them. It's different regions of the United States and a lot of people haven't heard of them. Some people haven't heard of ..Kodak Black , or  Lil Dicky , they just haven't heard of people like that on the cover . It's like a stamp, once you make it on there people are going to know you.
How has it been being on tour? 
I love it, city to city. We started in the west  coast first and its been showing us a lot. Its a different culture and lifestyle. I come from down south Florida ,so everything I'm seeing is broadening my horizon . I ain't seen a lot of this stuff . We had a chance to go to the Grand Canyon . I know a lot of people haven't been there , so just the simple fact that I did is just wow. That's what this is  about . Getting around seeing things , promoting ,putting on and getting everything accomplished the right way.
So where do you see yourself by the age of thirty in the music world? 
Thirty???? It's  really going to look a lot different. By the time people get their eyes, ears and minds on what I got going on they going to change up a lot of this shit that they like. I can't even fraudulent , a lot of the the rap game , or the rap fans really lost. They don't know what they really like . They will like a person and then they will like the person that just dissed them and so on. They don' t really have any loyalty in who they like . With my fans  I'm going to show them how I'm  consistent . Because I'm all the way that every time. So by the time I turn thirty they just going  to  be like "I fuck with Nard,  "He been holding it down a long time".