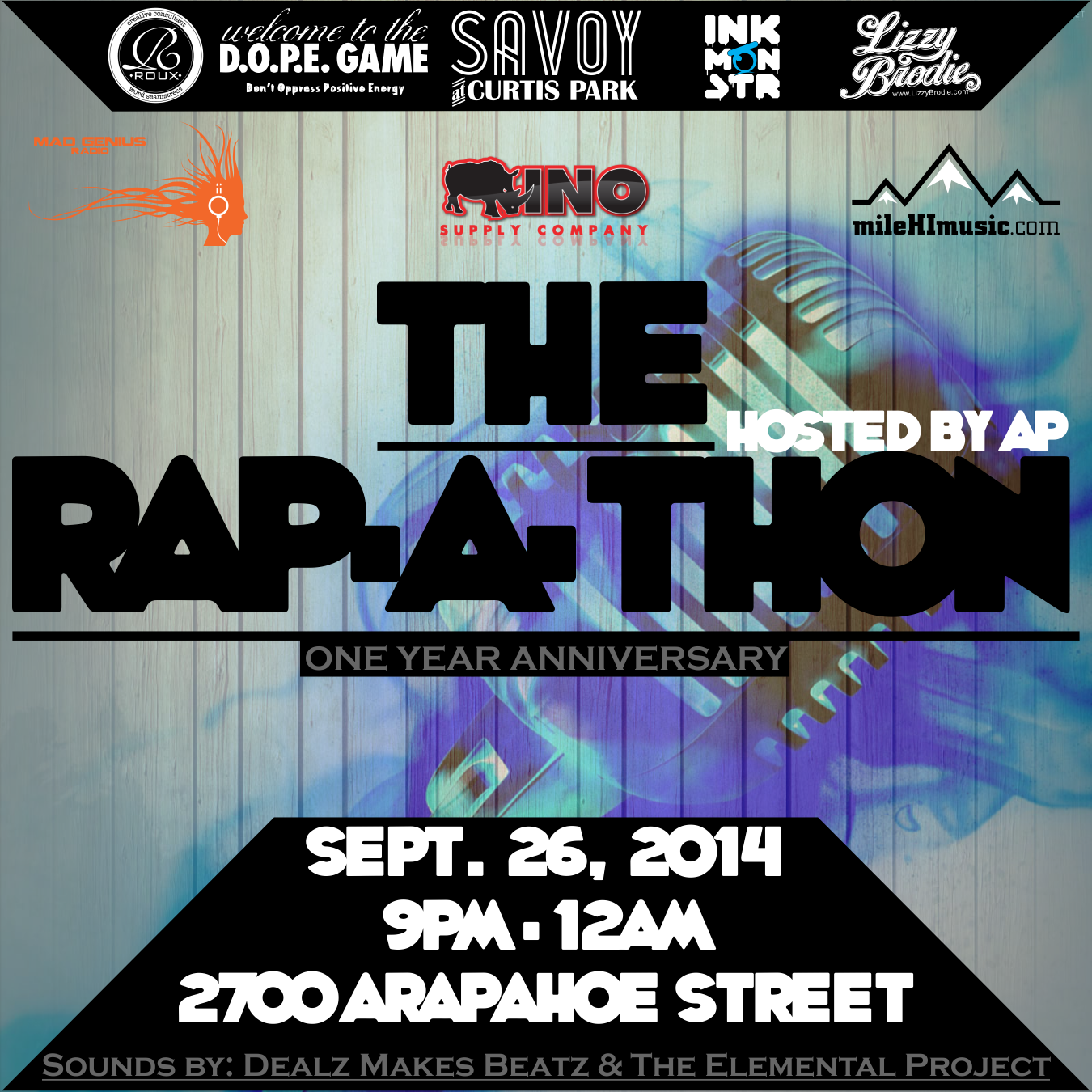 Events
The Rap-A-Thon Is Back In Denver For Its One Year Anniversary
By
|
The Rap-a-Thon is back by popular demand on September 26th. Powered by Roux Black and Lizzy Brodie, The Rap-a-Thon is an evening of rhymes, beats and a marathon of raps. Designed to highlight the never-ending rhyme structure of a cipher, MC's come together to shine, all in the name of rap. When the bell tolls at 8pm, the rhymes will begin and continue until midnight. This year's event is hosted by AP, an MC with a voracious appetite for the rhyming word. With over 60 MC's confirmed to take the microphone, the evening is sure to heat up, and fast! The one year anniversary event is powered by Mad Genius Radio, Rino Supply Company, Mile Hi Music, Ink Monstr and Welcome To The D.O.P.E. Game.
The first inception of The Rap-a-Thon was held a year ago (check out photos from Westword Newspaper here) and this year's event is sure to raise the bar even higher. Deep Eddy Vodka kept the party in high gear, serving its exclusive spirits while our vendors and creative graphic artists kept the visuals lush.
The Savoy at Curtis Park is the perfect location to hold this round-table of rhymes. The MC's, spectators and music lovers crowd into its spacious ballroom flanked by live art, dynamic local vendors and deejays and party the night away. This year the sounds will be provided by DealzMakesBeats, a producer, DJ and musician who is ideal for the sound and feel that will keep the wheels turning and the rhymes in rotation.
For more information, contact Ru Johnson: rujohnson@gmail.com or Lizzy Brodie at lizzybrodie85@gmail.com.