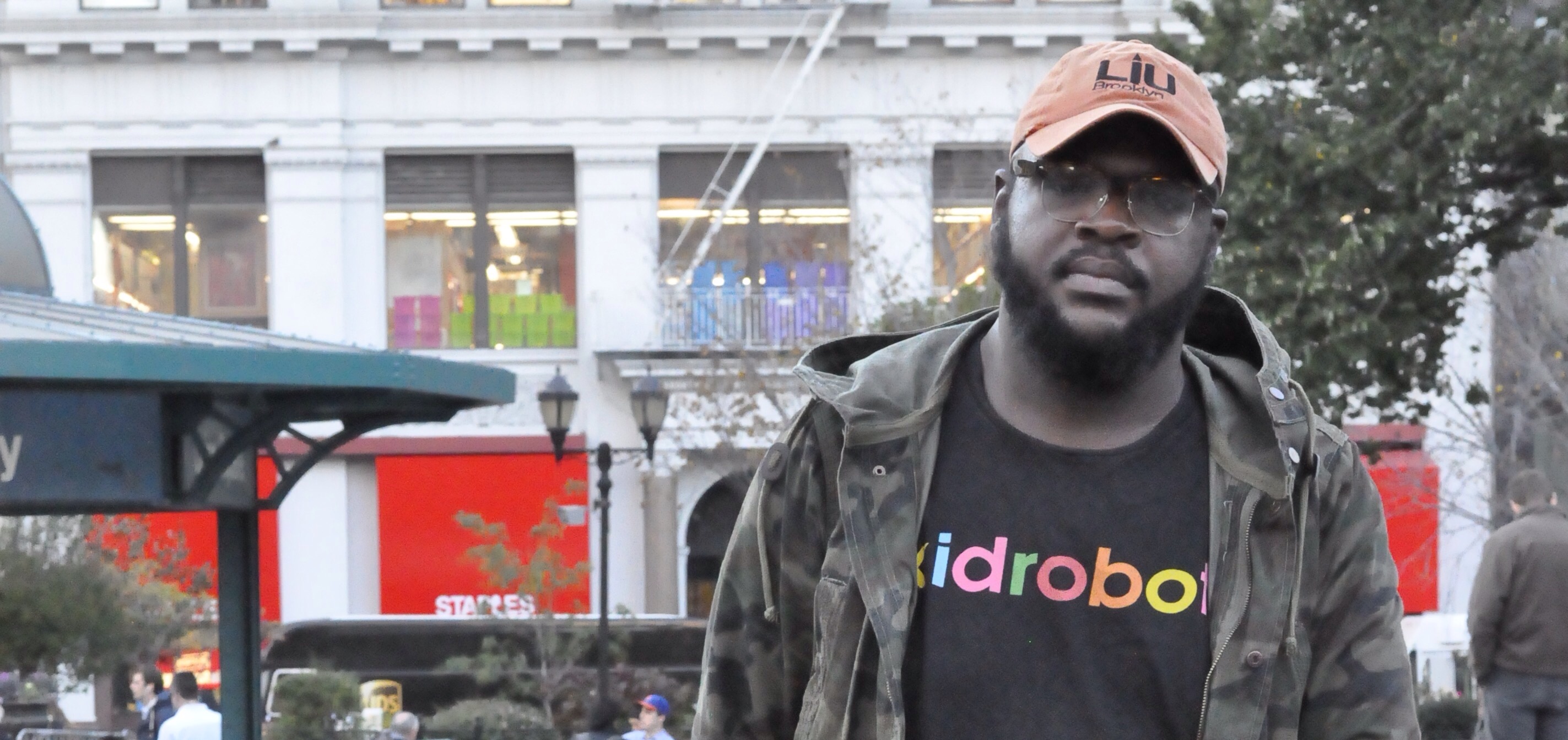 The 6
The 6 | Ash
By
|
Hannah Mello | November 11, 2015
Ash, NYC Nightlife Promotor
TELL US ABOUT WHAT YOU'RE WEARING TODAY:
Ash: Well I'm wearing my original casual wear, basically. I have this army fatigue…you, usually I'm the type of person that if I see it and it resonates with me, I get it. It doesn't matter where it is or what it is, if I like it I go for it. And if I'm rocking a $10 tee I can work it like it's worth $100. People will think I've shopped some big boutique when really I got an item from down the block. I'm wearing Adidas which I'm pretty sure everyone is wearing right now. They're having a renaissance. And of course I'm rocking my Kid Robot, which I got on sale for maybe $5. It's crazy. And of course my friends always inspire me, what I do with my fashion. Expressing through fashion really helps build up confidence, you know?
HOW HAS HIP HOP CULTURE INFLUENCED YOUR STYLE:
Ash: It made me not give a fuck more what people think, you know? So they could say "Hey, I saw you in this yesterday…" and I would be all 'uh-huh. Ok and what? Is there a problem?" I'm a nightlife promotor so I go out every weekend hosting other peoples events and it's always hectic trying to find something to wear every weekend so I would have to do a lot of recycling with items, wearing one with this thing one week that the other thing the other week…and the Hip Hop community helps keep it fresh for me and inspires new ideas about how to work items in different ways.
NAME YOUR TOP 3 FAVORITE HIP HOP ARTISTS:
Ash: Right now? So I'm a little bit of a weird dude…so I might say Kid Cudi even though many others would not include him in Hip Hop. I would have to say Kanye is top, of course, A$ap Rocky is one of my favorites because I am from Harlem so I am always rapping up and coming artists from the neighborhood. And l love a strong female singer. I don't know if you've heard of this new person, Justine Skye…I absolutely love her voice. Of course Kid Cuddy and Travis Scott, too. But you said top three, right? And I gave you like, five…I am the WORST!
WHAT IS ONE THING YOU WOULD NEVER BE CAUGHT WEARING:
Ash: Something that is really expensive! (laughs). No if I had the money maybe, but yeah. I might have said KSwiss a year ago but I really think they're coming back. You know, Fashion alway repeats itself, always. I would not be caught wearing anything from Lil Wayne's Truckfit. No…I don't see myself wearing that at all. He wears it 24/7 I believe…and I would not be caught dead wearing that gear. Oh no.
TELL US SOME OF YOUR FAVORITE DESIGNERS:
Ash: If I say Kanye is that too, like…too cliche? I mean, he's a great designer who is hugely influential. Otherwise I would have to say Balmain, due to the fact the Rick Ross…well, I wanna know how he gets his sized jean like that, cuz it is really hard to find that, for big guys it's really seriously hard. So I would say Balmain for that reason, that big people like me can still rock them. I like Tommy Hilfiger because I like clean-cut clothes, you know? I love that style…that clean sailor style.
WHAT IS ONE PIECE OF FASHION ADVICE YOU WANT TO GIVE OUR READERS?
Ash: Don't give a FUCK what people say about your outfit, what you're wearing. Just keep it moving. Honestly what people say shouldn't effect you because it is just their opinion. Whatever you got on, just rock it. Do you…be you. Because that's what fashion is…like, who ARE you, basically. Represent for yourself and no one else.