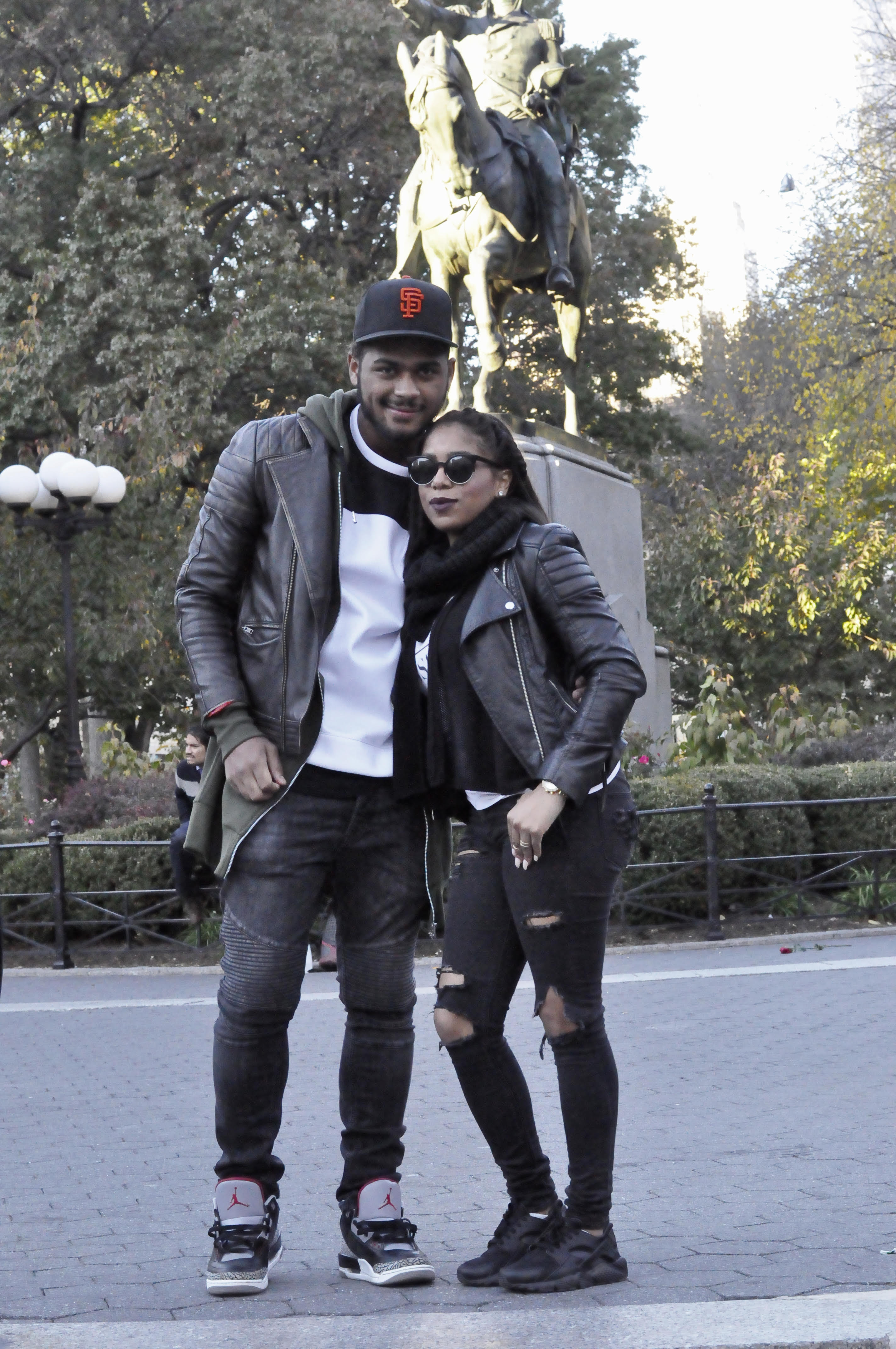 The 6
The 6 | Valerie & Giovanni
By
|
Hannah Mello | December 16, 2015
Valerie, Student & Retailer;
Giovanni Hicks, Student & Hip/R&B Producer (with some retail work on the side)
TELL US ABOUT WHAT YOU'RE WEARING TODAY:
Valerie:  Black ripped jeans, I think by H&M, black Nike Huaraches and my standby black leather jacket.  Black on Black.
Giovanni:  Right now I got my biker jeans on, some retro 3s, biker jacket and long, oversized hoodie.
HOW HAS HIP HOP CULTURE INFLUENCED YOUR STYLE:
Valerie: Well I have always been into the Hip Hop culture, you know I love listening to Hip Hop so I just take itsy-bitsy pieces from what the artists wear and then I just insert them into my own style.  So I guess you would say I take a literal, direct influence from the scene.
Giovanni: I mean, ever since I was a little kid I always loved Hip Hop and was always inspired by G Unit and even artists from back in the day, like The Jerseys and all'a that…when it was underground and raw.  But now Hip Hop is more like Pop Culture…so it's everything and everywhere.  It's high-end.  It makes it exciting to wear the clothes now…I'm more to it.  The influence is everywhere…on billboards, not just the streets.  So yeah, it's a lot of fun now.
NAME YOUR TOP 3 FAVORITE HIP HOP ARTISTS:
Valerie: Drake! Definitely number one.  J Cole and um…come back to me on a third one.
Giovanni: KANYE, KANYE, KAN…no, just kidding…but yes…Kanye West, Andre and definitely Drake cuz he killin' the game right now.
Valerie:  Yeah he definitely is! So I guess for my third I would say Kanye, Mr. West.  But Drake and J Cole are my two most favorite.
WHAT IS ONE THING YOU WOULD NEVER BE CAUGHT WEARING:
Valerie: Hush Puppies.  No, I'm serious.  Hush Puppies.
Giovanni: Mmm…that's a tough one cuz I always like taking risks, so I would try out almost anything.  Maybe..um..hmm…I don't know.  Anything by KSwiss I guess.  They done.
TELL US SOME OF YOUR FAVORITE DESIGNERS:
Valerie: I would say, Givenchy, Balmain…um…yeah, that's top two. That's it.
Giovanni: Ok, so…Tommy Hilfiger, Ralph Lauren…because I love that vintage 90s or late 80s type-feel.
WHAT IS ONE PIECE OF FASHION ADVICE YOU WANT TO GIVE OUR READERS?
Valerie: Look at Kim Kardashian's closet cuz she's the best.  No really, I think she is the best dresser and I really look up to her.  I love her style, even though she's not really that into Hip Hop and is not a Hip Hop mogul, but she's definitely someone I look up to.  Yes.
Giovanni: Just be you, be unique.  Don't try to follow people.  Find what YOU like…if you see that it's hot to your eye and it's different, do it.  Because the more unique you look the more you pop out from the masses with your fashion.  And we're New Yorker's…so we all wanna pop!